Open top containers serve similar storage/transport purposes as regular shipping containers, however, are able to accommodate much larger objects. They are a type of shipping container that is used for items that are too large to be loaded into a regular sized shipping container.
These containers are manufactured from corrugated steel and generally have a wood floor. The top of the container is open and is covered with a strong rubber tarpaulin rather than a solid roof.
The tarpaulin is secured with removable bows to hold it in place and features a door header that swivels outwards to allow for loading from the top or the end. The roof bows not only support the tarpaulin but also increase stability to the container.
End doors also provide additional flexibility which allows for easier loading. The dimensions of these containers vary, but they tend to have a larger capacity because they are not restricted by a roof.
Sizes of open top containers vary between manufacturer, so it's important to measure the volume of the items to be loaded and ensure that they will fit inside the container once loaded.
Tiger Shipping Containers can provide an open top container to suit your exact needs.
USES FOR OPEN TOP CONTAINERS

These useful containers are ideal for loading scrap metal and timber via large cranes. Some companies use these containers for shipping large machinery because the items can just be loaded right into the container from the end and then covered with a tarpaulin. Loading and unloading these containers is a lot easier than loading a conventional storage container.
When an open top container is fully loaded, it may be over height and needs a special storage area to accommodate it. These containers also feature lashing rings which help to secure the load inside and keep it stable and safe. Lashing rings generally can withstand a load of up to 1,000 kg. The average open top container is forty feet long, but is also available in twenty foot sizes which are suitable for a variety of cargo loading uses.
Open top containers are also used extensively for the removal of waste items or bulk recycling products. Once items have been sorted and weighed, they are loaded into these containers and then shipped on cargo ships.
Some of the items that are commonly stored or shipped in an open top container include:
Ore and other raw mining materials
Pipes of varying lengths, sizes, shapes and thicknesses
Tools, generally outfitted with shelving to hold and transport a large variety of tools
Cable spools and cables
Construction supplies or debris
Attachments for machinery that are just too bulky to be placed on trucks for transport
Tall, awkward and/or bulky cargo
Packing or unpacking either through the roof by crane and/or through the doors
Easy loading and offloading of cargo such as logs, scrap metal, machinery and other oddly shaped items.
WHY YOU NEED AN OPEN TOP CONTAINER

There are a variety of shipping containers that are available for any use, and when you find the items that you need to ship are larger than what standard containers will hold, you may need to consider using an open top container.
The average interior height of 8′ 6″ and 8′ 9″ for a high-cube container and a door size approximately 8 feet wide and about the same height; loading items that are bulky, irregular shaped or very tall can be tricky. This is where the open top container comes in.
Open top containers will not only prove useful when you need to transport bulky awkward goods but can also come in handy if your material handling equipment is largely comprised of cranes. This will make loading and unloading of goods from the top essential which is what the open top container is designed for. This type of container should therefore be a top contender when you are choosing the type of container to use.
Just like the ordinary containers, they also come in two variations:
If your company is looking for a container with easier loading options and more space at the top, then you might consider the open top option.
OPEN TOP CONTAINER FEATURES

The specs of the open top container will vary depending on user specification, but there are a few that are common across the board. They include:
A convenient design suitable for handling heavy and awkward cargo
Options of loading through the top with the use of overhead lifting equipment, or through the door if the situation necessitates
Supplied with PVC tarpaulins, sometimes tilts, with a removable rear header for protecting the cargo
Bow devices and an attachable ceiling
Hardwood or plywood floors
Securing points located in the bottom side rail with a few in the floor
The roof aperture is usually smaller than the internal dimensions of the container. This can be attributed to the protrusions of the top rails which are necessary for maintaining the integrity, strength and stability of the container.
OTHER ACCESSORIES INCLUDE:

Shipping Container Ramps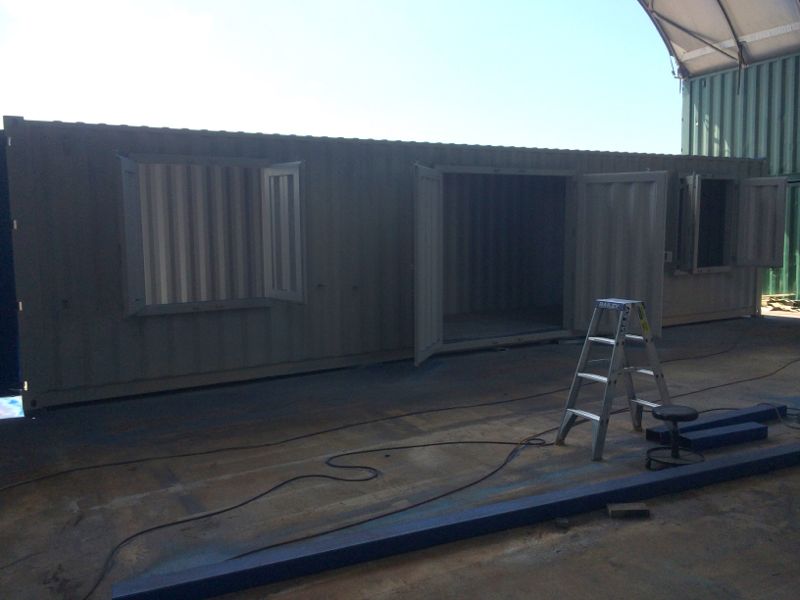 Shipping Container Doors and Windows
MODIFIED 40FT SHIPPING CONTAINER

Tiger containers recently modified a 40ft container. The customer wanted somewhere for his family to stay when they went to their isolated country property as a weekend retreat.
So as instructed we cut out 3 large cutouts: one for a door and 2 for windows. They also wanted to retain as much of the container look as possible, so we also used second-hand container doors, window covers and door entry.
The customers were customising the fit-out on site with specially made windows!
Need an open top container for your upcoming project? Tiger Shipping Containers provide quality new and used shipping containers at competitive prices. Our team of qualified and experienced technicians will also help you make the modifications you require to meet your needs.
Call us for a free quotation: 1800 072 039