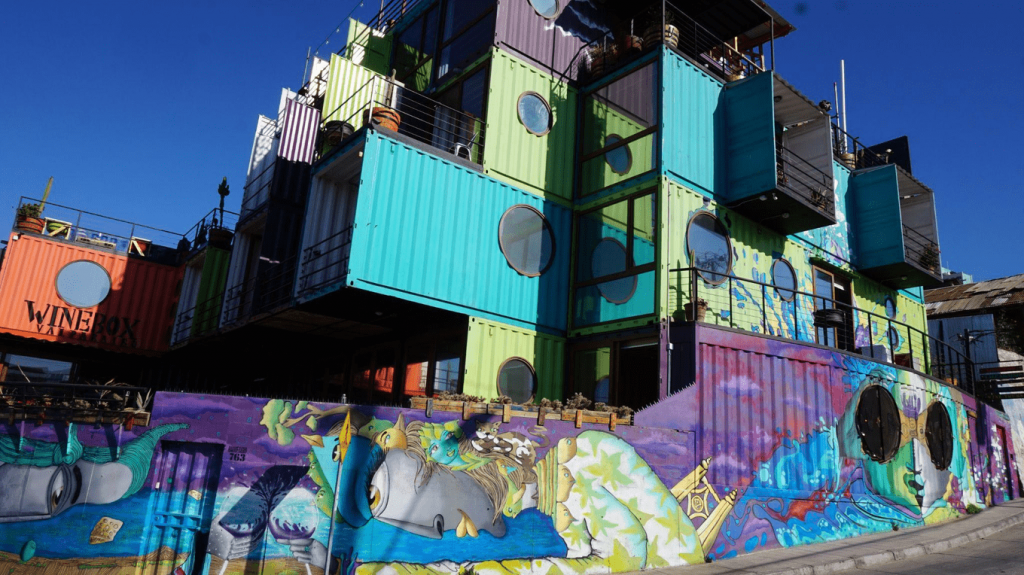 In recent years, you may have noticed an influx of shipping containers used for alternative and innovative purposes. From repurposed to refurbished or even complete redevelopments, people recognise the versatility of shipping containers beyond their traditional use.
You can look at a shipping container the same way you would look at a blank canvas, with endless potential to reinvent. Much has contributed to this surge in innovation, but a lot of it has to do with the containers' standardisation, accessibility, and affordability.
Since its invention, the shipping container has been used for many things, from homes and kitchens to restaurants and bars; all it takes is a bit of forwarding and creative thinking. However, these new ways of thinking and innovation can be attributed to emerging trends, technologies, and global affairs.
As this innovation reflects our ever-changing reality, container repurposing trends are also constantly evolving. So, let's look at the current five most popular ways to repurpose your shipping container.
1. Hotels
While our perception of Hotels typically include descriptors like grand, luxurious and large, at the end of the day, any good hotel offers affordable, safe, quality, clean and comfortable accommodation.
Similarly to how containers are used to build residential homes, innovators have identified that using containers to construct hotels can be just as effective. One of the most successful and popular demonstrations of a container built hotel is the Hougoumont Hotel in Fremantle, Western Australia.
As a cost-effective and on-trend design, this hotel is a perfect example of how containers can be repurposed into boutique, luxurious accommodation facilities in a sustainable way. You may picture a metal box with a bed inside, but the reality is much more. The hotel's architectural vision truly pulls off a heritage-laced facade, giving way to a dynamic blend of colours and materials.
Whether you're looking to level up your B&B or start a new business endeavour, repurposing your container into a stunning hotel is certainly an achievable and viable project in many regards.
2. Shipping Container Farm
Shipping containers have long been used on and around farms and rural properties, typically for storage, so it is not really a stretch to turn them into their own modular farms.
Also called vertical farming or controlled environment agriculture, these container farms look like mildly enhanced shipping containers from the outside but host automated, insulated and enhanced elements inside to support the farming process.
Businesses, including companies like Vertical Roots, initially began this endeavour after looking for a new way to produce plants and food anywhere in the world, at any time of the year, despite the unpredictable external and environmental factors. So far, this has been somewhat successful, and the plants can obtain all of their nutrients from the water and their light energy from powerful LEDs.
Using up to 95% less water than traditional farming, it is clear to see why this farming method has generated such positive attention. Container farms such as Sprout Stack are supplying well-known businesses, including Harris Farm Markets and IGAs and independent grocers like Manly Food Co-Op and Harbord Growers.
Whether you are a business or simply looking for a more economical way to grow produce at home, shipping container farms is an economical way to lower your carbon footprint while getting fresh produce in return.
3. Playground
Playgrounds need to be fun and exciting, and what's more fun than innovation?
Shipping containers have been used over the past decade to create sturdy yet appealing recycled playgrounds. The structural integrity of containers means they can essentially be stacked up like legos, only requiring a few modifications and additions to transform into a playground.
This trend began in Australia in 2008 when PHOOEY Architects used the idea of embodied energy to rethink 'material' and 'craft' and created Skinner's playground out of recycled shipping containers. Designed to look like a fort constructed by children, it inspired a new wave of 'play design' and the potential for more local parks to consider such an eco-friendly endeavour.
For smaller, backyard projects, shipping containers can also be modified into smaller playhouses for your children. You can get creative; think castles, pirate ships or spaceships, and turn a basic shipping container into your child's play area to explore right in your own backyard.
4. Emergency Shelter
Turning shipping containers into shelter options, whether a home, hotel or office, is undeniably a popular and useful project. However, something even more relevant and innovative is turning the container into an emergency shelter.
Bunkers or shelters can be necessary for many emergencies. Still, generally speaking, they are more or less built to protect you from external threats and provide for your welfare while you're inside. As we know, shipping containers are durable, secure, airtight and affordable, ticking off all the boxes for what makes a great bunker in an emergency.
Here in Australia, we continue to see an increase in natural disasters, specifically, the recent floods in Queensland and New South Wales, which are considered one of Australia's worst-ever natural disasters. Climate change has a lot to do with the increased frequency and intensity of extreme weather and climate systems influencing these natural hazards.
Repurposing your shipping container into an emergency bunker is an economical way to prepare yourself in the event of an emergency. When building this shelter, you should consider how many people you need to feed, clothe, care for, and provide a place to sleep in this shelter, as well as how can you store necessary supplies?
5. Office
As of the many effects of the COVID-19 pandemic, we have also seen an influx of people required or choosing to work from home. For many, the pandemic proved the many ways in which working from home is possible and, in some cases, can boost productivity and performance.
However, working in the space of your dining room table, possibly crowded by leisurely activities and distractions, is not always the most productive environment. Repurposing your shipping container into a simple office workspace is a great semi-permanent solution with the potential to become a hub for productivity in the comfort of your backyard.
Whether your work is corporate or labour intensive, a shipping container can be the perfect on-site office for construction sites, mining sites, worksites, agricultural properties, or for a small start-up business or work from home. Containers are secure, transportable and modular after all, and with the potential to be fully insulated, you can comfortably work in the space all year round.
Getting Started
While we have just outlined five innovative ways for you to repurpose your shipping container, we have only just scratched the surface. The blank canvas of a shipping container means that the opportunities are endless, and once you start thinking about how you could benefit from a container re-do, the hardest choice may be deciding which project you want to start first.
Containers come in a variety of shapes, available new or used, and for purchase or to hire. While there aren't complex options involved, making the decision-making process a little easier, it is always ideal to closely consider the type of container you invest in.
If you're ready to get started on your next shipping container project but are looking for some advice before you begin, contact Tiger Containers today. With more than 30 years specialising in all things containers, we believe in looking after our customers and ensuring we can meet all your requirements, no matter the purpose.